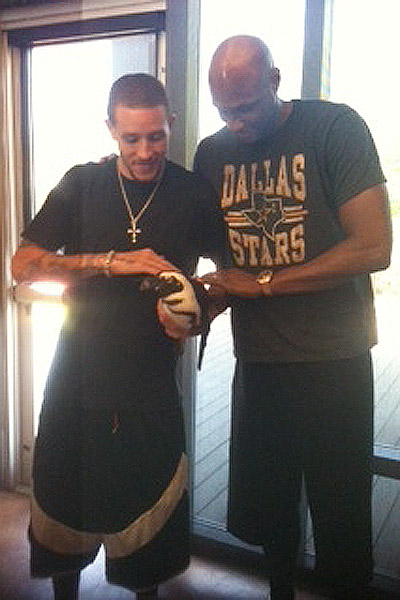 This is one of the funniest articles I've read about the NBA all year.It starts with the headline, "Delonte West eats with lions at the zoo?" and continues with hysterical quotes like this:
"Well, I think they noticed as soon as I came into the zoo my natural animal instinct, you know what I mean?" Delonte said, speaking of the actual animals. "I got a chance to eat with the lions, you know? They had Lamar playing with the penguins, but they needed me for the more animalistic-type of things, carnivore-type of things. So, I also had a chance to give birth to a baby cheetah today and I'm just overwhelmed with the experience to be amongst my own and my peers."
and
"It shows you the education system has definitely grown," West said. "They were right on. Every question that the specialists and professionals were asking they were right on. A couple of them took my answers. The kids were very intelligent and asking intelligent questions. I was very impressed."
One more.
"I just ran out in the woods, whatever I could find take it home as a pet," West said, again stretching the boundaries of fact into pure fiction. "I had a pet raccoon once. No, I took my few field trips to the zoo, but like I said, I think we're getting ready to go see some of the lions and gorillas, my own kind and hopefully we can have a nice bonding experience and they will accept me as the pack leader."
When you're done, watch KFC Raps and Delonte being interviewed by Paul Pierce.